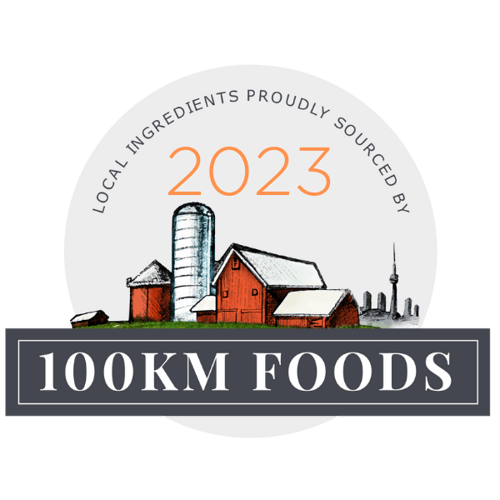 CERTIFIED 100km 2023
Attention Diners & Foodies
Over the years, members of the public have asked us one simple question: where should I eat to find local food on the menu?
Now you have your answer! 'Certified 100km' is an accreditation program that validates these participating restaurants as local food champions, who are using their purchasing power to prioritize sourcing local food from our network of farmers and producers.
Check out the 2023 participating restaurants, hotels and retailers below.
PARTICIPATING RESTAURANT PARTNERS
TORONTO, ON (DOWNTOWN)
Richmond Station is a stopping place, a bustling neighbourhood restaurant in the downtown core committed to delicious food and excellent hospitality.
TORONTO, ON (DOWNTOWN)
290 Bremner Boulevard, Toronto
360 The Restaurant at the CN Tower boasts fresh, local and sustainably produced food and drink complemented by an ever-changing panoramic view, all in the heart of downtown Toronto.
TORONTO, ON (WEST END)
The destination with a lovely mix of culture, art, and hospitality. Handcrafted cocktails and inventive cuisine; enjoy either at their street-side café, in the Drake lounge or at their award-winning rooftop patio, Sky Yard.
RESTAURANT PEARL MORISSETTE
JORDAN STATION, ON
3953 Jordan Rd, Jordan Station
Located in the Niagara region, Restaurant Pearl Morissette offers an ambitious destination fine dining experience in the heart of agriculture, featuring an ever-changing menu of regional ingredients. They are founded on a holistic approach to regenerative practices & processes. Working with regional purveyors, their food and wine offerings are a reflection of the local ecosystem & the land we inhabit.
RPM BAKEHOUSE
JORDAN STATION, ON
Open all seasons | A bakery + bistro producing baked goods with heritage grains & dishes using traditional techniques with seasonally grown ingredients. Working with regional purveyors, local farmers & millers, and sourcing from their 1.5-acre regenerative farm & garden on Jordan Road, their menu reflects the local ecosystem and the land we inhabit.


VIAGGIO
TORONTO, ON (DUNDAS WEST)
Seasonal menu of locally sourced modern Italian fare. Refreshingly creative take on Italian cuisine.
MAPLE LEAF TAVERN
TORONTO, ON (EAST END)
A true community Tavern focusing their efforts on working with the best people and the best suppliers Toronto has to offer.


BELLWOODS BREWERY
TORONTO, ON (WEST END)
Thoughtful seasonal focused dishes & a rotating selection of experimental beers make up the menu at Bellwood's newly expanded Brewpub!


TRIUS WINERY AT HILLEBRAND
NIAGARA-ON-THE-LAKE, ON
1249 Niagara Stone Rd, Niagara-on-the-Lake
Chef Frank Dodd works with local farmers, growers and producers to create inspired wine country cuisine that makes their Trius wines sing.


THE HAMPTONS RESTAURANT
TORONTO, ON (COLLEGE WEST)
The Hamptons is a mindful and intimate dining experience that evolves with the seasons featuring creative well researched dishes with ingredients from local suppliers.


THE ACE
TORONTO, ON (RONCESVALLES)
231A Roncesvalles Ave, Toronto
The Ace is a true neighbourhood staple boasting innovative yet approachable farm-to-table cuisine with a menu that changes weekly. Recipient of a Michellin Bib Gourmand this past year.

LIBERTY COMMONS
TORONTO, ON (LIBERTY VILLAGE)
The spot to go for farm-to-table cooking & craft beer! From tasty bar snacks to proper pub grub, Chef Tom Wade and his team are serving up comfort food at its finest.


ONE RESTAURANT
TORONTO, ON (YORKVILLE)
ONE Restaurant contemporary Yorkville hotspot located at the chic Hazelton Hotel. The sumptuous bar, spacious tree-lined it patio and lavish dining room make for an immersive dining experience day or night.
STELLA'S EATERY
WAUPOOS, ON (PEC)
2470 County Rd 8, Prince Edward
Farm-to-table casual dining featuring seasonal food, local brews & natural wines. Keeping things simple and good, Leah prepares comfort food inspired by the fresh and seasonal and locally sourced ingredients.
BAR ISABEL
TORONTO, ON (COLLEGE PROMENADE)
This College West gem is the place to enjoy contemporary Spanish inspired dishes using fresh, local ingredients and the finest European imports.


CORNERHOUSE ON MAIN
WHITECHURCH-STOUFFVILLE, ON
6403 Main St, Whitchurch-Stouffville
The Cornerhouse on Main's menu features an interesting range of daily specials, an excellent wine list, with frequently updated Vintages selections, and their famous dessert menu. Quality food, friendly service in a relaxed and elegant environment.

13TH STREET WINERY
ST. CATHARINES, ON
1776 Fourth Ave, St. Catharines
13th Street's menu is created by Chef Josh Berry & features locally inspired, seasonal plates that change throughout the season to reflect Niagara's bounty. An added bonus: their outdoor areas are dog-friendly!


FOUR SEASONS - CAFE BOULUD
TORONTO, ON (YORKVILLE)
Cafe Boulud, located in the Four Seasons Hotel, offers a seasonally changing menu rooted in French tradition, highlighting both bistro classics and contemporary dishes inspired by Chef Daniel's family meals in Lyon.


REIGN
TORONTO, ON
A fitting tribute to the timeless Fairmont Royal York, REIGN is a celebration of the bounty of Canada. Their culinary team forges seasonal ingredients and masterfully plates the rich harvest in each dish. Gather your peers and enjoy three dining experiences - the restaurant, wine bar and bakery.
BIG PETE'S STEAKHOUSE (MONTHILL GOLF CLUB)
CALEDONIA, ON
A contemporary steakhouse, Big Pete's features a sleek design, masterful cocktails, and an elevated, yet comfortable dining experience. Honouring Peter John "Big Pete" Montour, Big Pete's merges old school sensibilities with authenticity and sophistication.
PARTICIPATING RETAIL PARTNERS
FRUITFUL MARKET
TORONTO, ON (EAST END)
The Fruitful Market's mission is to support the health and happiness of their neighbourhood, stakeholders, and the environment through healthy & delicious comfort food.They strive to use high quality, unprocessed ingredients and always have plant-based options available.Grab & go and grocery available.
SUNNYSIDE PROVISIONS
TORONTO, ON (RONCESVALLES)
A takeaway, grocery + bottleshop, their tagline of 'eat first, everything else later,' is true to their intentions, providing the hood with a true smorgasbord of items to cover any and all daily needs and to satisfy many cravings too.
SUPERIOR SEASONS
THUNDER BAY, ON
Superior Season's goal is to be your trusted source for local and regional food and specialty crafted products. Quality and freshness are guaranteed on every order with a 100% refund policy!
PARTICIPATING HOTELS & SPA PARTNERS
VETTA NORDIC SPA
ORO-MEDONTE, ON
Vettä offers a fine dining restaurant and bistro at their Nordic Spa where their patrons can enjoy a beautiful menu prepared with locally sourced, seasonal fresh ingredients, inspired by Finnish and Nordic cuisine.
Cap off your spa experience at one of Vettä's dining experiences from their fine dining restaurant KOIVU, to their bistro SAVU.
THE ROYAL HOTEL
PICTON, ON (PEC)
247 Picton Main St, Picton, ON
Luxury hotel, spa & dining experience.The Royal Hotel's menu celebrates their immense gratitude for their neighbours and local farmers. Their dishes showcase produce and flavours of the moment, a nourishing harvest that evolves with the seasons.

Indulge in a weekend away or simply book a reservation for their on of their stellar dining experiences.


LANGDON HALL
CAMBRIDGE, ON
A luxury hotel, spa & dining experience.The cuisine at Langdon Hall starts with looking out their kitchen windows. It is inspired by the seasons, wild produce growing in abundance on the property and the bounty of their kitchen gardens. Relationships have been built with community farmers, foragers and artisans who hold similar beliefs of providing wholesome natural products that have been prepared with care and respect.
FAIRMONT ROYAL YORK
TORONTO, ON
As Toronto's landmark hotel, Fairmont Royal York has been an iconic destination for over 90 years. With over 1,300 rooms, three signature restaurants and 273k guests served in our banquet spaces, sourcing local, high-quality ingredients remains our culinary team's main priority when developing the food and beverage offers within the hotel.